What is Recovery Technology™?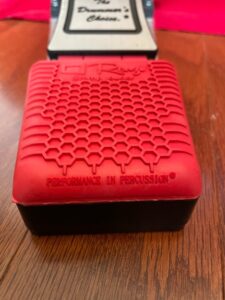 After many experimental material tests, during product development and engineering, we found the right pattern and compound needed to provide the drummer and percussionist with a flexible, yet resilient, R100 Top-Plate™ designed to reduce lower body stress and fatigue while improving balance, comfort and stability sitting or standing behind the kit.
The "Red" Top-Plate™ "Honeycomb Pattern", comprised of hexagonal shapes, gives the material strength and durability while reducing the chance of material break-down under constant load or pressure, concurrent with providing an energy return system designed to deflect and disperse impact forces, while returning the expended energy or "propulsive energy" back to the player, otherwise lost to the pedal board, metal heel plate and ground – "Rooting."
WHAT LEVEL OF DRUMMER OR PERCUSSIONIST DO I NEED TO BE IN ORDER TO BENEFIT FROM THE RENZI® STOMP LOUDER® LINE OF PRODUCTS?
Our first product, the Renzi® Stomp Louder® Advanced Heel Pedestal System (AHPS)™ with Recovery Technology™ is designed to provide lower body ergonomics with any drummer or percussionist, regardless of age, sex, playing style or playing ability. We encourage drum and percussion teachers and students (at all levels) to use our system.
Which manufacturers drum and percussion pedals do they fit?
The Renzi® (AHPS) with Recovery Technology™ fits on all Drum Workshop (DW®) pedals except for the 2000 and 4000 series. Pedals designed and sold in 1980 all the way through 2020. We are in the process of starting engineering/production on our next manufacturer drum and percussion pedals.
How Long Does It Take To Install?
If all tools required are available and the instruction are carefully followed, you should be enjoying your new Renzi® (AHPS)™ system within 20-25 minutes. Please look at our instruction page and follow our video tutorials.
can someone else install the Renzi® for me?
We are in the process of acquiring brick and motor Drum Shops to join our team. We will post them as soon as the shops carry our product. Most require drummers and percussionists to "Ask" for the Renzi® Advanced Heel Pedestal System (AHPS)™ before they place an order. You can order it direct off our Web-eCommerce site and once received, take it in with your pedals and ask the service representative to install it for you. Once the Drum Shops start carrying the Renzi® system you will be able to take your stock pedals into the local Drum Shop and ask for the Renzi® (AHPS) with Recovery Technology™ System to be installed OR purchase the Renzi® System at the store and have the technician clean, service and add other aftermarket parts (if necessary), too include the new Renzi® (AHPS) with Recovery Technology™ System at a very minimal cost.
Do you have customer service?
Of course! Our friendly and knowledgeable customer services reps are available to answer your questions between the hours of 10:00 AM and 6:00 PM (PST) – M-F. If you receive the auto-attendant, leave a message and a service professional will call you back.
When can i expect to receive my renzi® products after ordering?
If you order during our introductory Pre-Sale Campaign, orders will be fulfilled 30 days from the date of purchase. Once the Pre-Sale campaign concludes, once your order is placed, it will be processed, shipped and should be received within 7-10 business days: within the continental U.S. Shipping outside the Continental United States will take longer.
Do you ship overseas and PO Boxes?
Yes, we'll ship your package anywhere that accepts deliveries, and the buyer will be responsible for any customs, international and/or overseas shipping fees required to have the Renzi® delivered. We do not ship to P.O. Boxes.
What is your return policy?
Make sure all to the hardware, packaging and "R" series fully adjustable level plates and packaging are in good condition and we will accept all returns–no questions asked–within 30 days of purchase.
Do you have any endorsement opportunities with Renzi® Stomp Louder®?
If you would like to apply to become one of our endorsed artists, please go to our "Contact Us Page", fill out the Artist Endorsement Request Form and we will contact you as soon as possible to review.
Sign up for our newsletter.